Actualitat
Stork festival
15/05/2011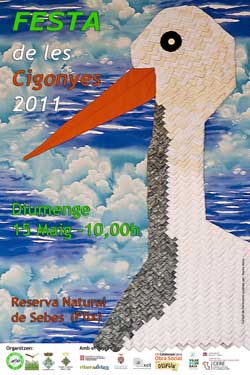 IX EDITION OF THE FESTIVAL OF THE Stork Sebes Nature Reserve
As is tradition, the Nature Reserve Wildlife Sebes, within the framework of the Reintroduction of the White Stork in Terres de l'Ebre, held on Sunday 15 May, the Ninth Festival of Storks.
The event will take place at the Book Information Center, Director of the Mas. From 9.30 pm you can start accessing Mas Director. Access can only be done with the means of transport that provide booking. Then, at 10.30 am, the show will be held Miranius, the company Pamipipa and games giant, the company wonder. From 1130 hs'efectuaran delivering diplomas to take the babies born in 2010 and the closing of the festival. As for qualifications, namely that this year have been close to two hundred babies in the Ebro basin and other neighboring counties are invited to collect his diploma on the day of the festival.
As a new poster for the festival this year has been made ​​of patchwork, made ​​by Professor of Women's Association Rosita Horta.
The event will end with the symbolic release of Wildlife.
We invite you to come and Flix share this day with us! We wait
---